Expanded R&D Capabilities In Europe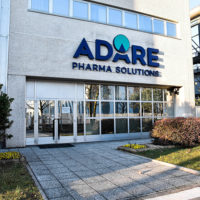 Adare Pharma Solutions has a global network of manufacturing and development sites, with locations in the US and Europe that serve customers all over the world. We're always working to expand the capabilities of our network and its facilities so we give our customers the highest level of service in the CDMO industry.
We've recently upgraded the Research & Development capabilities of our facility in Pessano, Italy. Our Pessano site is a 220,000 sq ft facility providing clinical and commercial scale manufacturing—including clinical batch manufacturing and organic solvent capabilities—for the US, European, and Japanese markets. The facility's expanded R&D capabilities will help expedite formulation and process development services for our customers, and allow for both clinical and commercial manufacturing at the Pessano facility.
The bottom line: Pessano's expanded R&D services will help our network provide customers with streamline development timelines and reduce API usage.
If you think your next project could benefit from faster timelines, learn more about the expanded R&D capabilities on the Pessano facility's page, or Contact us to talk with a drug delivery expert.